THE CITRUS INDUSTRY, Volume 1 History, Botany and Breeding.
Webber and Batchelor. University of California Press.
Indispensible. Second Edition much updated, but some interesting material removed.This is my Citrus 'bible'. I have the two editions of "The Citrus Industry, Volume1" published in 1943 and 1976, as well as volumes 2 and 4. Often available from online used book sellers.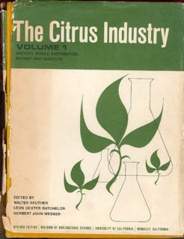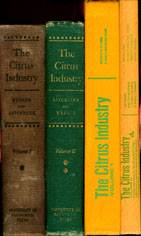 Australian Bushfoods Magazine.

I have two issues, Aug 97and Summer 2001.Both describe Australian Native Citrus in detail. The covers (above) show sections through the Round Lime, and differently coloured Fingerlimes.
Indoor Citrus and Rare Fruit Society

As a past member of this defunct organisation, I have copies of all newsletters published.
The Fruit Gardener.

As a past member of California
Rare Fruit Growers, I have about a dozen of these magazines including some selected back issues, such as the one shown from 1993.
Updated 14th March 2008 & 20th December 2021
From former East Germany are two beautiful books, exact reprints of the famous
volumes of 1704 and 1711. Click on any of the images to go to higher definition copies of these example pages
Johann Volkamer's
'Hesperides'
THE CULTIVATION OF CITRUS FRUITS.

H. Harold Hume. Macmillan 1926, with reprints to 1954.
Historically interesting -eg. recommends spraying with Hydrocyanic Acid, yet covers biological pest control too! Some lovely old photos.
BIOLOGY OF CITRUS.
P. Spiegel-Roy and E.E. Goldschmidt. Cambridge University Press 1996. Technical.
CITRUS. HOW TO SELECT, GROW AND ENJOY.

Richard Ray & Lance Waldheim.
My edition, 1980, by HP Books, but I believe it may have been updated since. Useful for home growers, although USA orientated.
SUCCESS WITH CITRUS.

P. Oliver. Global Orange Groves, UK. Self-published book concentrates somewhat on their own supply of Spanish varieties. Interesting section on UK historical Orangeries.
CITRUS VARIETIES OF THE WORLD.
James Saunt. Sinclair International Ltd., Norwich, England.
First edition 1990, revised 2000
Excellent descriptions and photos of a very wide range of commercially grown varieties, plus rootstocks.
THE GREAT CITRUS BOOK
-A guide with recipes. Allen Susser, Ten Speed Press, California. Excellent pictures of some unusual varieties. Recipes look good, but USA ingredients!
SUNSET CITRUS
. Sunset Publishing Corp., California. Selection guide, planting and care. Latest varieties described. Again USA information.

GLI ADRUMI ORNAMENTALI
From Oscar Tintori. In Italian, this book links Volkamer's historical varieties with examples that are still growing in Italy to this day. Good photos of these unusual varieties, and more everyday types. Also in English and German from oscartintori@tiscali.it
Citrus in India and
Establishment of First Gene Sanctuary in India for Citrus in Garo Hills.
I bought these two books in the hope of finding a clear listing of types of Indian citrus. But they were not the answer. Photos (especially in the second book) are of poor quality. I would recommend one of the two books below in preference to these.
Classification of Citrus Fruits of Assam
Bhattacharya & Dutta, Delhi 1956

Excellent detailed botanical descriptions with large clear pictures and line drawings.

Botanical Survey of India
The 150 page section on the family Rutaceae by Narayanan Nair and Nayar, includes citrus and related species. Excellent, detailed technical botanical descriptions and drawings.
AGRUMES
Bénédicte & Michel Bachès
Excellent, practical information on growing citrus - mainly in pots. Details varieties (some unusual), watering, propagation, pests etc. Recommended, but only French and German editions available.
Flora of India, Volume 4