...at Strasbourg Botanic Garden; and at Parc du Thabor and the public swimming pool in Rennes, France.
Jardin Botanique de Strasbourg
also known as

Jardin Botanique du Université Louis Pasteur
Parc du Thabor, Rennes, France
---
---
Rennes, Piscine Municipale
This fine art deco building at the corner of Rue Gambetta and Rue Victor Hugo, has a pair of fruiting Poncirus on either side of the entrance.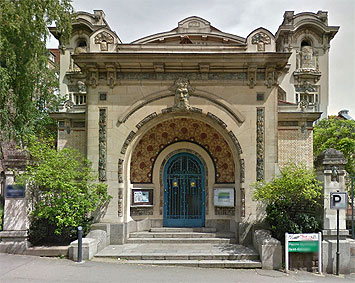 ---
page updated 16Nov2015
A beautiful specimen - like the one in Strasbourg, it is growing as a small tree rather than the more usual bush form.
Photos supplied by Frédéric Tournay, curator of Jardin Botanique de Strasbourg, and now also responsible for the botanical collections at the Arbres du Monde arboretum at Huelgoat, Brittany.