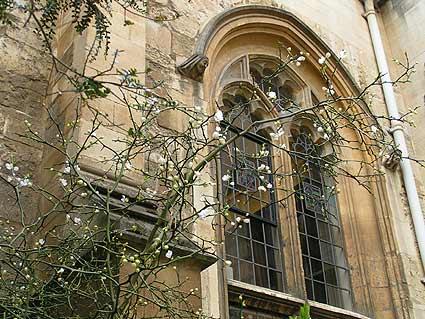 ...at Oxford University Colleges
Balliol College
In a rather gloomy corner of the library wall, and overshadowed by an evergreen Azara microphylla tree, this Poncirus trifoliata is a tall, open and somewhat wispy-branched specimen. Part is growing up through a neighbouring Euonymus shrub. Probably never trimmed, it is amazingly different from the plants I photographed recently in Turin. Compare here!
When I visited in early May, the flowers were just opening, mainly towards the top, but clearly this is a large-flowered form. The plant was listed in the 1973 catalogue of Balliol College garden plants, so is probably over 40 years old. (The 2000 version of the catalogue is no longer on the college website, so I have made it available as a pdf download.)

Balliol's gardens are open to the public most afternoons, and are well worth inspecting for their diverse range of plants - many rarely seen in Britain.
---
Wadham College
This plant, with flower buds swelling, was observed during a visit to the 'Fellows Private Garden' in early April 2016. It is in the northernmost border, so gets plenty of sun.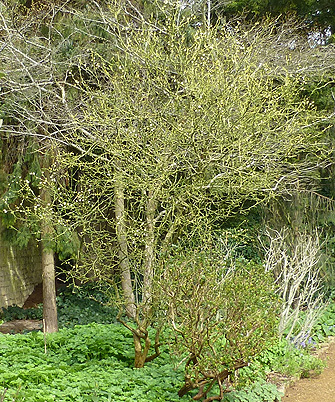 ---
Other Oxford Poncirus trifoliatas can be found at the Botanical Garden and in Headington Hill Park.
Page created 2nd May 2006, Wadham added 11th April 2016