Historians and art lovers will know of the power and wealth of the
Medici family
in Florence, Italy, from the 13th to 17th century. Patrons of the arts, financiers of the Italian 'renaissance' and builders of imposing villas in the Tuscany region.
Villa di Castello & The Boboli Gardens, Florence
Villa di Castello & gardens about 1600, from a 'lunette' painting by Giusto Utens.
One of several paintings of the Medici citrus collection, about 1715, by Bartolomeo Bimbi, painter of plants and animals at the Medici court.
In April 2007, I was shown around the garden and citrus collection by the head of the garden, Paulo Galeotti. The hundreds of pots, some believed to date from the 1600's, were still crammed into their winter quarters in the vast 'limonaia' at one side of the garden. A good excuse for a return visit later in the year when individual plants will be more accessible - after the 3 week task of distributing the pots to their allocated plinths in the formal gadens!
Villa di Castello garden in summer, with the citrus pots in place.
Paulo Galeotti has worked in the garden for some thirty years and has catalogued and classified the entire collection.
I was especially thrilled that he was able to locate for me to photograph the rarest of citrus varieties - the graft-hybrid chimera 'Bizzaria', shown here.
Hundreds of ancient citrus pots, showing the Medici insignia, in their winter heated quarters. The majority are lemons, citrons and intermediate 'limonimedica' types.
At some stage the Medici citrus collection was split between the Villa di Castello and the Limonaia (or orangery) in the Boboli gardens, on the other side of Florence. In summer these potted plants are displayed on the island (Isolotto) in the formal pond - the 'Vasca dell'Isola', but in April when I visited they were still under cover in the Limonaia.
The beautifully restored Limonaia constructed in 1778. Notice the same Medici insignia as on the citrus pots. In 1966 the building was temporarily used to house paintings being dried out after the disastrous floods in Florence that year.
The Isolotto in Summer
Peering between the iron railings, I took these photos through the open doors of the Limonaia.
page created 17th April 2007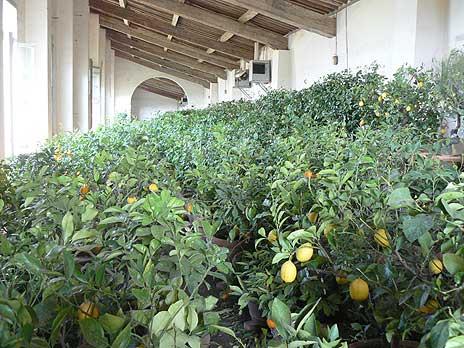 These villas usually had grandiose formal gardens attached and one of them -
Villa di Castello
on the outskirts of Florence - became home to an amazing collection of citrus plants. In spite of damage and losses during the First World War, much of this collection remains in place to this day. Few, if any, of the varieties are grown commercially today, but in conjuction with the Tintori Nursery in the town of Pescia, most are now being propagated and are available to purchase as ornamental pot plants.
---
---
---