and its citrus connections
London's Royal Botanic Gardens at Kew were granted UNESCO's World Heritage Site status in 2003.
The Orangery
The Temperate House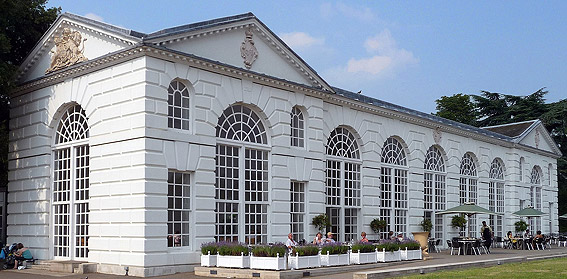 Built in 1761, the orangery is Kew Gardens oldest building. Although at one time it was said to have produced good crops, light levels are generally considered to have been too low. Sadly, it is now used as a restaurant and tea-room, with just a few potted citrus scattered around.
Click here for a short history of the orangery.
Completely renovated in 1980, this is one of several magnificent glasshouses at Kew. Click here for a short history and further information.
The citrus collection is not very extensive, and few plants date from before the renovation. I have observed the collection many times and have noticed that fruiting is limited. Maybe this is because the plants are in a shady position and lack sunshine.
1982 Citrus 'Imperial Lemon'
1982 Citrus aurantiifolia 'Java'
1997 Citrus aurantiifolia 'Mexican' (MEXICAN LIME)
1973 Citrus aurantium (SEVILLE ORANGE)
1997 Citrus latifolia 'Bears Lime'
1997 Citrus limon 'Eureka' (LEMON)
1996 Citrus limon (L.) Burm.f. (LEMON)
1974 Citrus medica
1974 Citrus reticulata 'Fortune' (MANDARIN)
1997 Citrus reticulata 'Hernandina' (CLEMENTINE)
1997 Citrus sinensis 'Sanguinelli' (BLOOD ORANGE)
1997 Citrus sinensis 'Valencia' (SWEET ORANGE
1997 Citrus sinensis 'Washington Navel' (NAVEL ORANGE)
1962 Citrus sinensis (L.) Osbeck 'Lue Gim Gong' (SWEET ORANGE)
1997 Citrus unshiu 'Okitsu' (SATSUMA)
1959 Citrus X aurantiifolia (Christm.) Swingle (LIME)
1959 Citrus X paradisi 'Glen Red'
1959 Citrus X paradisi 'Marsh' (MARSH GRAPEFRUIT)
The Citrus Collection plaque in the Temperate House
One of the more fruitful trees, the Bitter Orange, Citrus aurantium.
Citrus paradisi, Marsh Grapefruit with the only fruit in summer 2004.
---
---
---
created 3rd Aug2004
re-built 10th Nov2011
The Economic Botany Collection
The collection contains a considerable number of citrus items, mainly preserved fruits and wood. I visited the collection in July 2004 in order to see the fruit of the Australian native citrus species, formerly 'microcitrus'. Click the link below for more details.
I have created several computer drawings based on photos I took of items in the collection. For copyright reasons, I am not allowed to publish the original photographs, but I can privately e-mail them to anyone who is interested.
The Gardens at Kew
---
Although of outstanding interest to every botanist, horticulturalist or gardener, any citrus connection outdoors in the gardens themselves is limited to the frost-hardy Japanese Bitter Orange, Poncirus trifoliata. Click here for details and pictures.
---
---