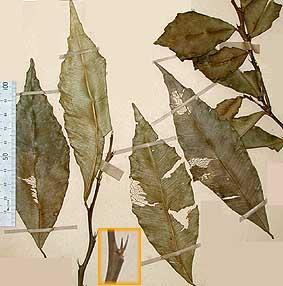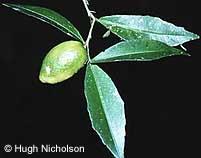 Also known as Large Leaf Lime
There's not much published information about this rare species. It has a limited distribution in the north of Queensland, Australia, growing in lowland rainforest at the foot of the Bellenden Ker range, not far from Cairns. It was first described by botanist F.M. Bailey in 1889:
"This new species of Citrus is well worthy of cultivation for its fruit, which is juicy and of equal flavour with the West Indian Lime. In general appearance the tree resembles the orange, having the same dark green foliage. I have chosen the specific name on account of all the flowers gathered being wanting in fragrance, a remarkable feature in a genus so noted for scented flowers."
A scan of the first collected specimen - the 'type specimen' - which is held in the Queensland Herbarium, and reproduced with permission. I have enlarged part of the twig so that the paired spines, a unique feature of this citrus, can be more clearly seen.
Citrus inodora from
'The Queensland Flora - part1' by F.M.Bailey
published 1899

A drawing from the 1909 book by F.M. Bailey entitled 'Comprehensive Catalogue of Queensland Plants Both Indigenous and Naturalised'.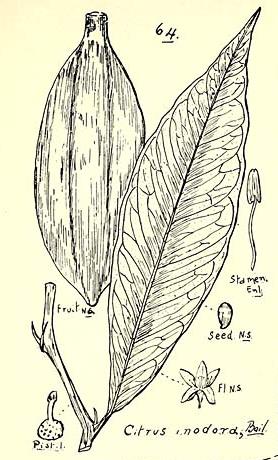 This was the first ever photo of inodora fruit on the web! Taken of a wild specimen from Mt Bellenden Ker near Cairns in north Queensland, and sent to me by photographer Hugh Nicholson. See www.rainforestpublishing.com.au
Photos sent to me by an Australian visitor to this web-site, showing a rooted cutting bought from a Queensland nursery. Notice the serrated, almost holly-like leaf margins.
From Riverside's Citrus Variety Collection, these fruit may be suffering from sunburn!
Note the smoother leaf margins.
Since 2001, I have been growing seedlings which are clearly true-to-type, with prominent paired spines. One of these seedlings flowered for the first time in May 2004, but all flowers dropped off without setting fruit.

Finally, in early December 2006, the first mature fruit was produced - very small but beautifully formed, and probably a UK first!
Since then my plants have flowered and set larger fruit quite often.

In October 2016, I found this species growing wild in the Australian rainforest. For details see ....finding Citrus inodora
page re-built 27Nov16