In August 2019, I drove from Brisbane to the northern section of D'Aguilar National Park, a distance of about 70Kms. Also known as the Mount Mee section, the national park has an entrance and day-use visitor area at The Gantry which was originally a timber saw mill.
The Bulls Falls Lookout track is only about 500m long and starts about 1km from The Gantry.
The best local map is here from OpenStreetMap
I found very many examples of Citrus australis growing on both sides of the track, particularly towards the falls lookout end. They were at all stages of development from small seedlings to tall mature trees with their canopies high up in the forest. Unfortunately it was the wrong time of year for flowers or fruits.
An entry in the Australian Atlas of Living plants had reported finding Citrus australis fruits on a forest trail within easy walking distance of The Gantry.
Map of D'Aguilar National Park Mount Mee area Trails Map
At left is a typical Round Lime seedling just starting to develop wider leaves, and at right detail of the juvenile linear leaf form.
A Queensland native wild citrus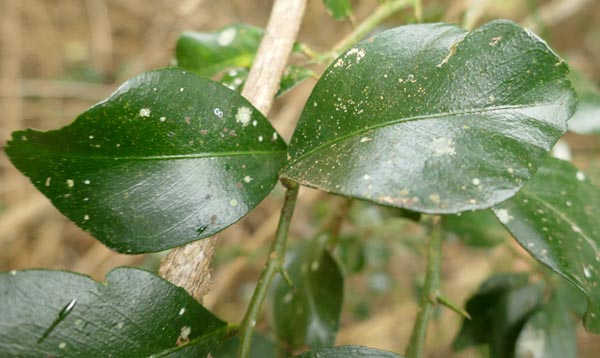 The intermediate diamond-shaped leaves, and the more rounded leaves of an older tree.
...part 2
At the Falls Lookout there is another sign pointing to the falls themselves. Right behind the sign was a group of tall trees of which at least one was a mature Citrus australis with its canopy perhaps 8 or 10 metres above. Note the dead but still thorny lower branches.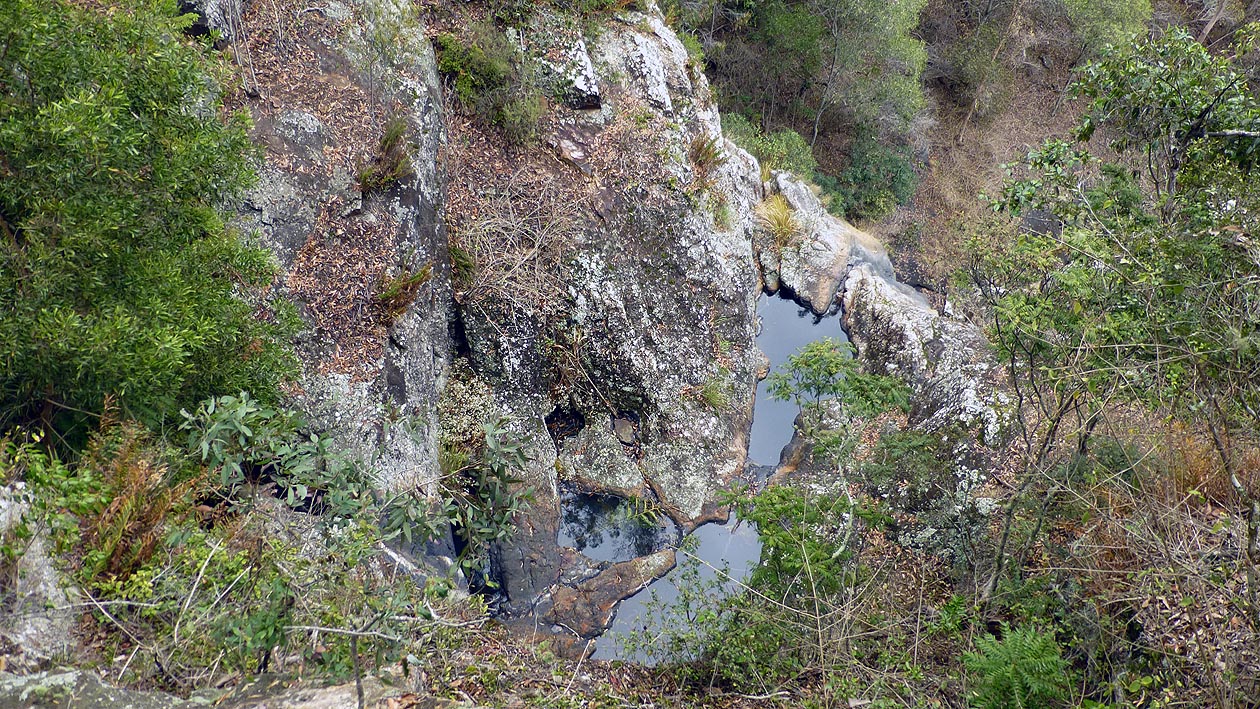 Here is the end of the trail, overlooking Bulls Falls. Still some water pools but, after the lengthy drought in 2019, the falls were not flowing when I visited.
---
For further information take a look at: Citrus australis (1) and Finding Citrus australis
page created 4th May 2020